Cruisehammer has come and gone and wow what an experience once again! As an organizer, I am constantly overwhelmed by the people who participate in this event. We continue to grow this time with a total group size of over 80 people! We had people from all over the US and Canada as well as a couple of people from Sweden. It was amazing to see all the new faces as well as some familiar old faces. Here is a group shot from our private farewell party!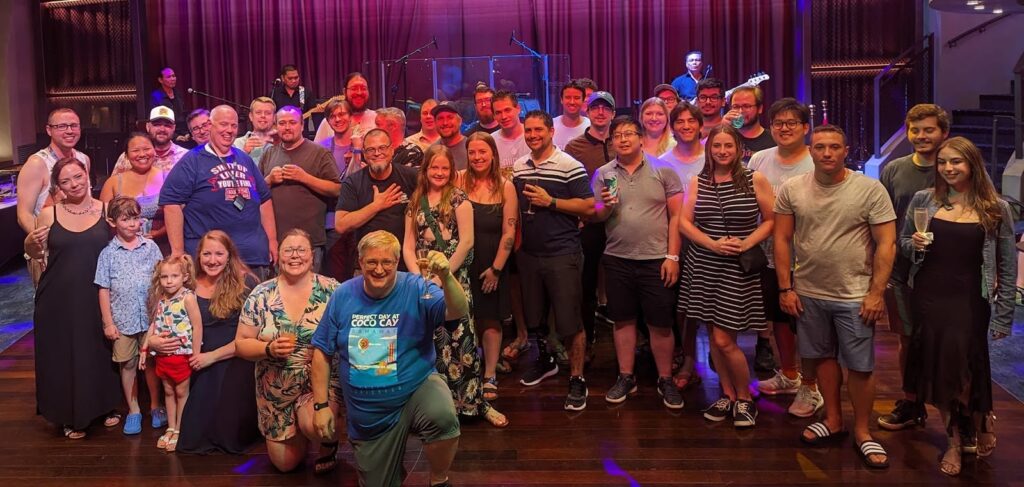 40k had 26 participants this year, would have been more but it would appear that a few people were having too good of time on the ship the night before to make the early game start.
The swag we had for every participant this year was amazing again this year, with a velvet dice bag, 25 Cruisehammer dice, a hat and beach bag, lanyard, sticker, 9″ deep strike widget and a gorgeous challenge coin.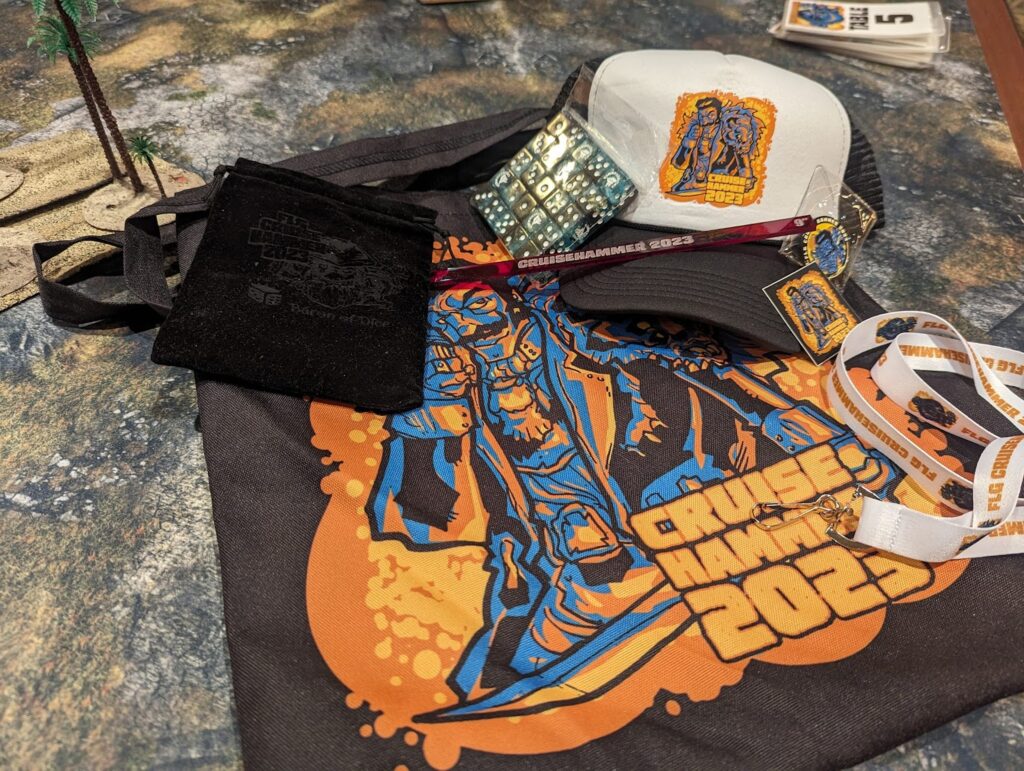 The games themselves we had them battle out the first day to a top 8 cut then had the 8 fight it out in single elimination style. Although for many this meant only 3 guaranteed games, the convention center on the boat had space allocated to us for the entire trip allowing many guys to get more games during the trip, and many of us were playing board games well into the night as well.
Back to gaming, top 8 included 2 Adeptus Custodes, 2 Imperial Knights, 1 Tyranids, 1 Genestealer Cult, 1 Chaos Daemons and 1 Thousand Sons players. One Imperial Knights player didn't make the game so we promoted an Ultramarines player to fill his place. They battled hard but left standing was Adeptus Custodes, Tyranids, Thousand Suns and Genestealer Cult. Adeptus Custodes beat the Genestealer Cult and Tyranids beat the Thousand Sons (by successfully completing a Gambit I might add!).

After an exhausting amount of gaming over the week the Tyranids player had nothing left in the tank so Brian Horton conceded to Gabriel Norrström making Adeptus Custodes the winner for this year's Cruisehammer.
I have to admit I was exhausted myself which meant that I did not take pictures of the winners holding their awards (which this year was a full set of measuring sticks from 12" down to ½" engraved with the award on the front with the Cruisehammer logo).

Other notable awards:
Best Painted: Brian Horton
Best Sportsman: John Feurehelm
Best Imperium: Alex Semprebon (Adeptus Custodes)(best imperium other than best general)
Best Xenos: Brian Horton (Tyranids)
Best Chaos: Alex Molin (Thousand Sons)
My favorite part of the event is the group dinners where people talk about either games they played, or adventures they went on when on cruise destination stops. All while enjoying some amazing dining experiences.
If you want to experience this amazing event for yourself I recommend keeping an eye out at www.cruisehammer.org or on the facebook page (https://www.facebook.com/cruisehammer) to keep posted for our next event!
Cheers
Dan Miner
FLG Cruisehammer Event Coordinator